BIOS IT Blog
Keep up-to-date with everything that's happening at BIOS IT
Giving you more GPUs per U than anyone else!
BIOS IT, in partnership with Supermicro, are excited to announce the upcoming release of our new range of ultra-dense GPU server platforms. From a 1U server with up to 4 NVIDIA® Tesla® K80 dual-GPU accelerators (up to 300W) to a 7U blade with 30 GPUs, we have an unparalleled selection of configurations to meet any scale challenge. These high density compute platforms are suited for high-performance computing clusters, 3D CAD/CAM/CAE, cloud & visualization, oil & gas, and deep learning applications.
GPU acceleration can increase throughput of certain applications by up to 25 times, as such we are seeing a huge uptake in NVidia Tesla-based compute for data analytics, deep learning and scientific computing.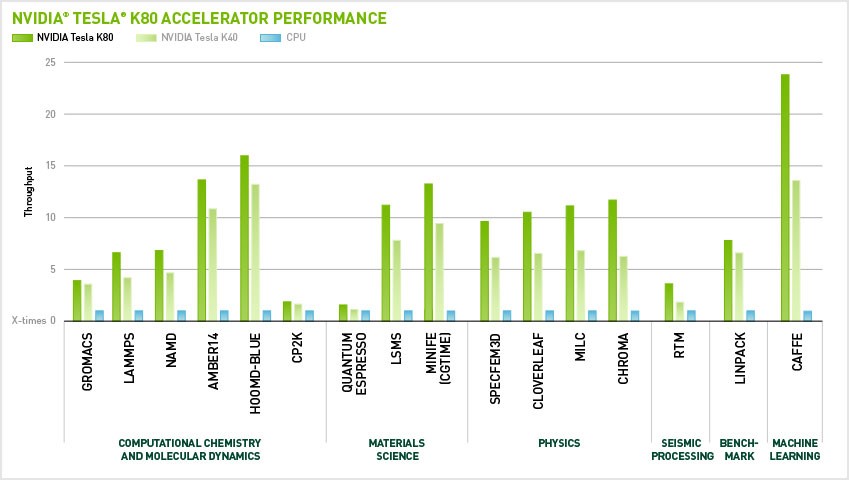 GPU Accelerated Application performance compared to CPU
However, it's not just about increased performance, GPU acceleration also brings reduced power consumption and greater energy efficiency, a factor deeply entrenched into the Supermicro way of thinking. Charles Liang, President and CEO of Supermicro said "Supermicro is enabling a highly scalable, energy efficient future for parallel computing with our Green Computing solutions. Our expertise in maximizing compute density, performance and power efficiency is highlighted in our latest 1U GPU SuperServer that supports up to four NVIDIA GPUs."
Product Highlights
| Size | CPU | # of GPUs | Memory | Disk | Power Supply |
| --- | --- | --- | --- | --- | --- |
| 1U | Dual E5-2600v3 | 4 | 512GB DDR4 | 4x 2.5" | 2000W Titanium rated |
| 2U | Dual E5-2600v3 | 6 | 1TB DDR4 | 10x 2.5" | Redundant 2000W Titanium rated |
| 4U Twin (8 node) | Dual E5-2600v3* | 12 | 1TB DDR4* | 2x 3.5" * | 4x Redundant 2000W Platinum rated |
| 7U Superblade | Dual E5-2600v3* | 30 | 512B DDR4* | 1x SATA-DOM* | 4x Redundant 2000W Platinum rated |
* per node
Not what you're looking for? Check out our archives for more content
Blog Archive
From Silicon to Cloud
Turnkey IT Solutions that scale to meet customers needs