 NVIDIA DGX SYSTEMS
The world's first portfolio of purpose-built deep learning systems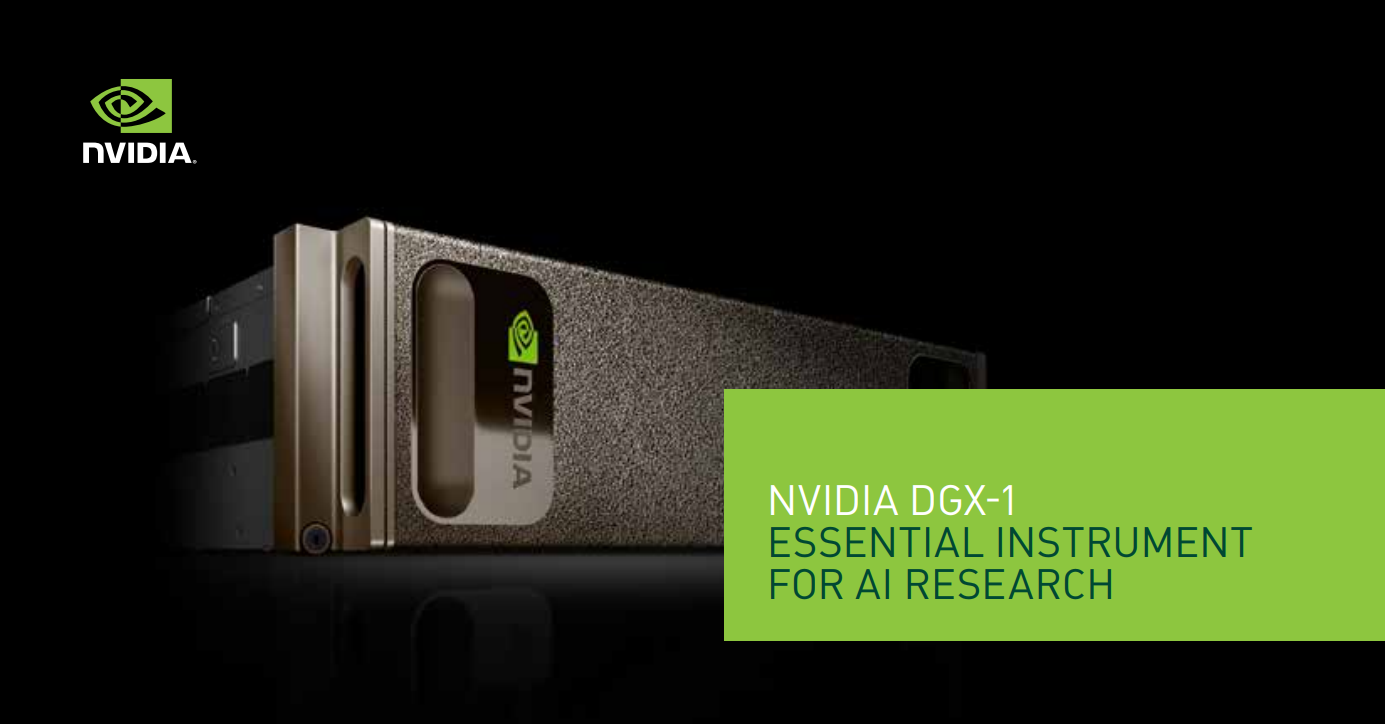 The Challenges of Building a Platform for AI
Data scientists depend on computing performance to gain insights and innovate faster, using the power of deep learning and analytics. GPU technology offers a faster path to AI, but building a platform goes well beyond deploying a server and GPUs.
AI and deep learning can require a substantial commitment in software engineering. This investment that could delay your project by months as you integrate a complex stack of components and software including frameworks, libraries, and drivers. Once deployed, additional time and resources are continually needed as you wait for the ever-evolving open source software to stabilise. You'll also be waiting to optimise your infrastructure for performance, along with administrative costs that increase as the system scales.
The Fastest Path to Deep Learning
Inspired by the demands of AI and data science, NVIDIA® DGX-1™ fast-tracks your AI initiative with a solution that works right out of the box so that you can gain insights in hours instead of months. With DGX-1 you can simply plug in, power up, and get to work, thanks to the integrated NVIDIA deep learning software stack. Now you can start deep learning training in as little as a day, instead of spending months integrating, configuring, and troubleshooting hardware and software
Effortless Productivity
NVIDIA DGX-1 removes the burden of continually optimising your deep learning software and delivers a ready-to-use, optimised software stack that can save you hundreds of thousands of dollars. It includes access to today's most popular deep learning frameworks, NVIDIA DIGITS™ deep learning training application, third-party accelerated solutions, the NVIDIA Deep Learning SDK (e.g. cuDNN, cuBLAS, NCCL), CUDA® toolkit, Docker Engine Utility for NVIDIA GPU.

SYSTEM SPECIFICATIONS
| | |
| --- | --- |
| GPUs | 8X Tesla V100 |
| Performance (Mixed Precision) | 1 petaFLOPS |
| GPU Memory | 256 GB total system |
| CPU | Dual 20-Core Intel Xeon E5-2698 v4 2.2 GHz |
| NVIDIA CUDA® Cores | 40,960 |
| NVIDIA Tensor Cores (on V100 based systems) | 5,120 |
| Power Requirements | 3,500 W |
| System Memory | 512 GB 2,133 MHz DDR4 RDIMM |
| Network | Dual 10 GbE, 4 IB EDR |
| Software | Ubuntu Linux Host OS See Software Stack for Details |
| System Weight | 134 lbs |
| System Dimensions | 866 D x 444 W x 131 H (mm) |
| Packing Dimensions | 1,180 D x 730 W x 284 H (mm) |
| Operating Temperature Range | 10–35 °C |
Revolutionary AI Performance
While many solutions offer GPU-accelerated performance, only NVIDIA DGX-1 unlocks the full potential of the latest NVIDIA GPUs like the NVIDIA Tesla® V100, including innovations like next generation NVLink™ and new Tensor Core architecture. With its performance-engineered deep learning software stack, DGX-1 delivers up to three times faster training speed than other GPU-based systems. With the computing capacity of 140 servers in a single system that integrates the latest NVIDIA GPU technology with the world's most advanced deep learning software stack, you can take advantage of revolutionary performance to gain insights faster than ever, powered by NVIDIA DGX-1.
Investment Protection
Your AI initiative is critical to your organisation's success, and dependent on a frequently optimised software stack and integrated hardware infrastructure. With today's rapidly evolving open source software and the complexity of libraries, drivers, and hardware, it's good to know that NVIDIA's enterprise grade support and software engineering expertise are behind every DGX-1. This software stack is built on years of R&D, innovation, and deep learning expertise, and maintained by monthly optimised framework releases. Also, NVIDIA's support includes software upgrades and priority resolution of critical issues; you can have peace of mind that your environment is tuned for maximised performance and uptime.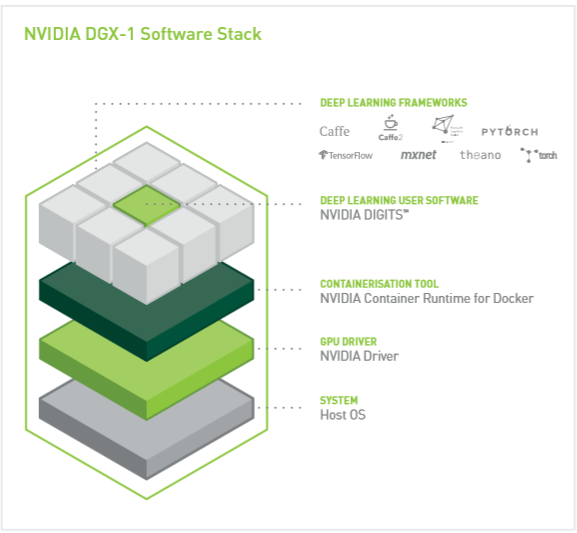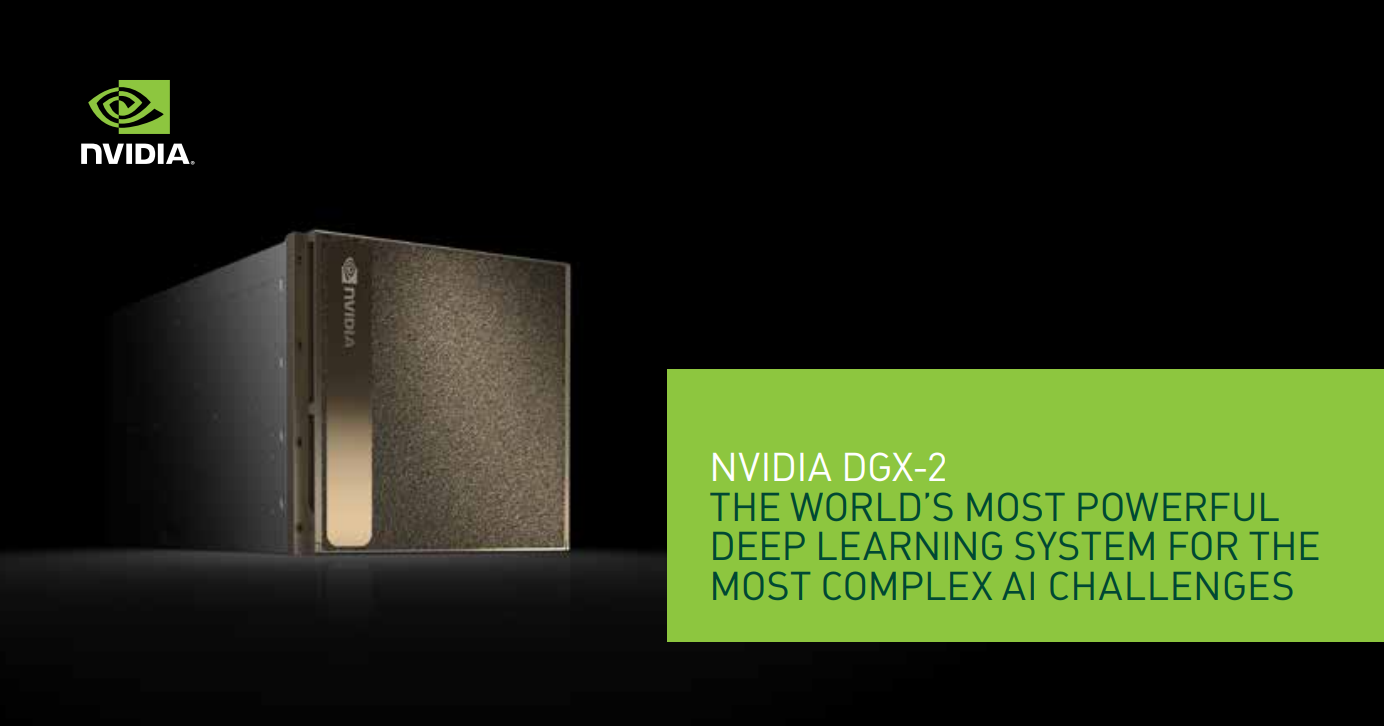 The Challenge of Scaling to Meet the Demands of Modern AI and Deep Learning
Deep neural networks are rapidly growing in size and complexity, in response to the most pressing challenges in business and research. The computational capacity needed to support today's modern AI workloads has outpaced traditional data centre architectures. Modern techniques that exploit increasing use of model parallelism are colliding with the limits of inter-GPU bandwidth, as developers build increasingly large accelerated computing clusters, pushing the limits of data centre scale. A new approach is needed - one that delivers almost limitless AI computing scale in order to break through the barriers to achieving faster insights that can transform the world.
Performance to Train the Previously Impossible
Increasingly complex AI demands unprecedented levels of compute. NVIDIA® DGX-2™ is the world's first 2 petaFLOPS system, packing the power of 16 of the world's most advanced GPUs, accelerating the newest deep learning model types that were previously untrainable. With groundbreaking GPU scale, you can train models 4X bigger on a single node. In comparison with legacy x86 architectures, DGX-2's ability to train ResNet-50 would require the equivalent of 300 servers with dual Intel Xeon Gold CPUs costing over $2.7 million dollars.
NVIDIA NVSwitch—A Revolutionary AI Network Fabric
Leading edge research demands the freedom to leverage model parallelism and requires never-before-seen levels of inter-GPU bandwidth. NVIDIA has created NVSwitch to address this need. Like the evolution from dial-up to ultra-high speed broadband, NVSwitch delivers a networking fabric for the future, today. With NVIDIA DGX-2, model complexity and size are no longer constrained by the limits of traditional architectures. Embrace model-parallel training with a networking fabric in DGX-2 that delivers 2.4TB/s of bisection bandwidth for a 24X increase over prior generations. This new interconnect "superhighway" enables limitless possibilities for model types that can reap the power of distributed training across 16 GPUs at once.
SYSTEM SPECIFICATIONS
GPUs
16X NVIDIA® Tesla V100
GPU Memory
512GB total
Performance
2 petaFLOPS
NVIDIA CUDA® Cores
81920
NVIDIA Tensor Cores
10240
NVSwitches
12
Maximum Power Usage
10 kW
CPU
Dual Intel Xeon Platinum 8168, 2.7 GHz, 24-cores
System Memory
1.5TB
Network
8X 100Gb/sec Infiniband/100GigE Dual 10/25Gb/sec Ethernet
Storage
OS: 2X 960GB NVME SSDs Internal Storage: 30TB (8X 3.84TB) NVME SSDs
System Weight
340 lbs (154.2 kgs)
System Dimensions
Height: 17.3 in (440.0 mm) Width: 19.0 in (482.3 mm) Length: 31.3 in (795.4 mm)
- No Front Bezel 32.8 in (834.0 mm)
- With Front Bezel
Operating Temperature Rang
5°C to 35°C (41°F to 95°F)
AI Scale on a Whole New Level
Modern enterprises need to rapidly deploy AI power in response to business imperatives, and need to scale-out AI, without scaling-up cost or complexity. We've built DGX-2 and powered it with DGX software that enables accelerated deployment, simplified operations – at scale. DGX-2 delivers a ready-to-go solution that offers the fastest path to scaling-up AI, along with virtualisation support, to enable you to build your own private enterprise grade AI cloud. Now businesses can harness unrestricted AI power in a solution that scales effortlessly with a fraction of the networking infrastructure needed to bind accelerated computing resources together. With an accelerated deployment model, and an architecture purpose-built for ease of scale, your team can spend more time driving insights and less time building infrastructure.
Enterprise Grade AI Infrastructure
If your AI platform is critical to your business, you need one designed with reliability, availability and serviceability (RAS) in mind. DGX-2 is enterprisegrade, built for rigorous round-the-clock AI operations, and is purpose-built for RAS to reduce unplanned downtime, streamline serviceability, and maintain operation continuity. Spend less time tuning and optimising and more time focused on discovery. NVIDIA's enterprise-grade support saves you from the time-consuming job of troubleshooting hardware and open source software. With every DGX system, get started fast, train faster, and remain faster with an integrated solution that includes software, tools and NVIDIA expertise.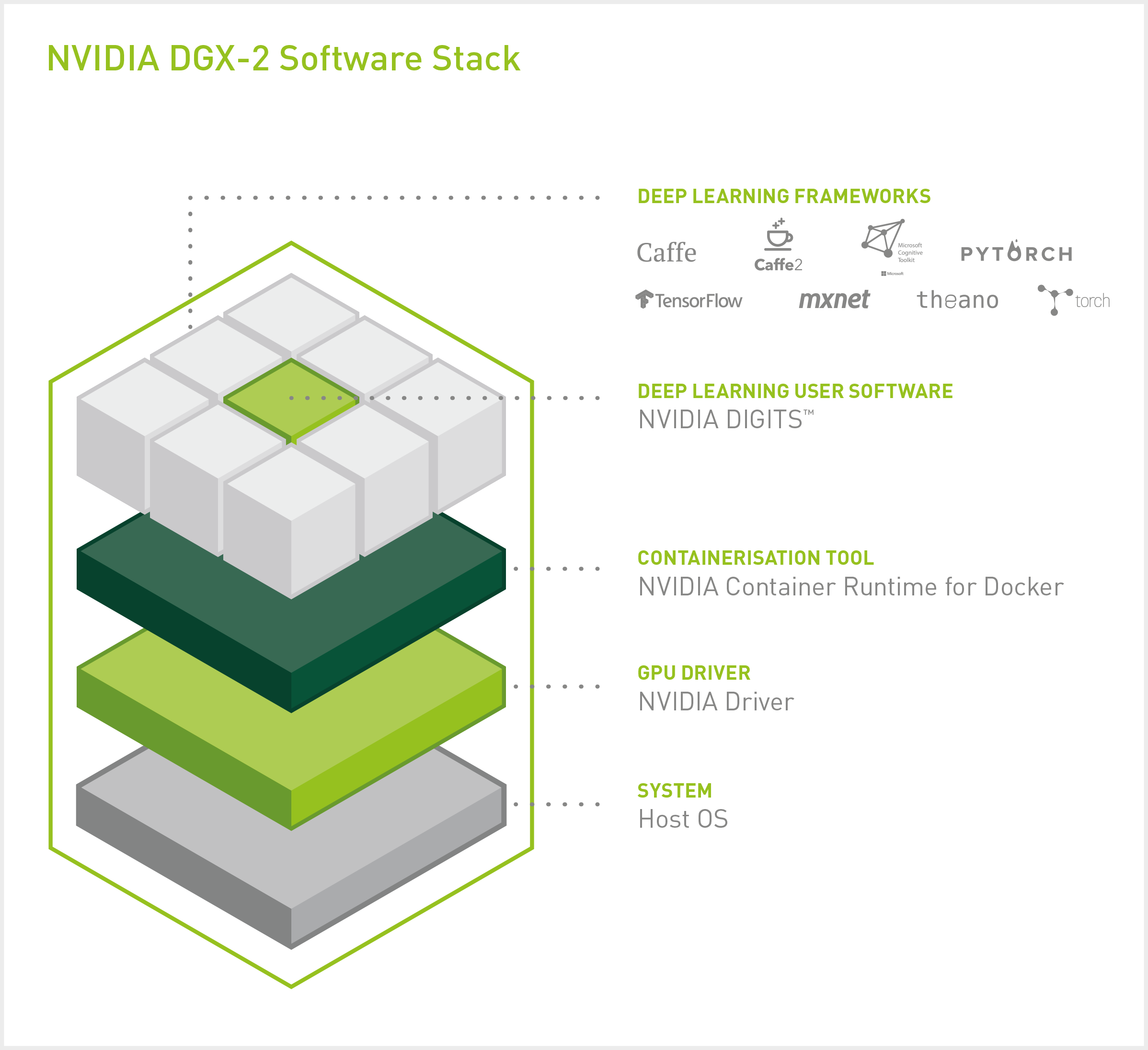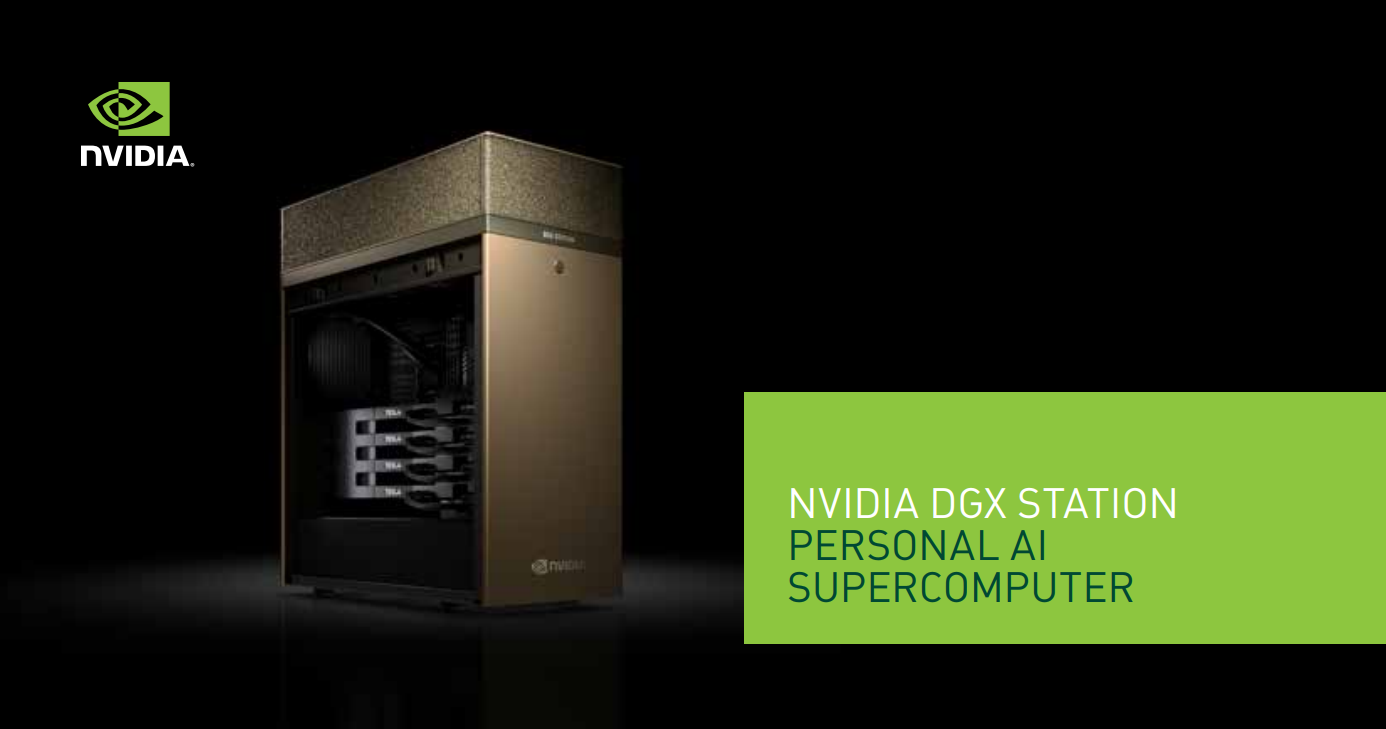 The Personal Supercomputer for Leading-Edge AI Development
Your data science team depends on computing performance to gain insights, and innovate faster through the power of deep learning and data analytics. Until now, AI supercomputing was confined to the data centre, limiting the experimentation needed to develop and test deep neural networks prior to training at scale. Now there's a solution, offering the power to experiment with deep learning while bringing AI supercomputing performance within arm's reach.
Groundbreaking AI, at Your Desk
Now you can get the computing capacity of 400 CPUs, in a workstation that conveniently fits under your desk, drawing less than 1/20th the power. NVIDIA® DGX Station™ delivers incredible deep learning and analytics performance, designed for the office and whisper quiet with only 1/10th the noise of other workstations. Data scientists and AI researchers can instantly boost their productivity with a workstation that includes access to optimised deep learning software and runs popular analytics software.
Get Started in Deep Learning, Faster
DGX Station breaks through the limitations of building your own deep learning platform. You could spend a month or longer, procuring, integrating, and testing hardware and software. Then additional expertise and effort are needed to optimise frameworks, libraries, and drivers. That's valuable time and money spent on systems integration and software engineering that could be spent training and experimenting. NVIDIA DGX Station is designed to kickstart your AI initiative, with a streamlined plug-in and power-up experience that can have you training deep neural networks in just one day.
Productivity That Takes You from Desk to Data Centre
Deep learning platforms require software engineering expertise to keep today's frameworks optimised for maximum performance, with time spent waiting on stable versions of open source software. This means hundreds of thousands of dollars in lost productivity, dwarfing the initial hardware cost.
NVIDIA DGX Station includes the same software stack found in all DGX solutions. This innovative, integrated system includes access to popular deep learning frameworks, updated monthly, each optimised by NVIDIA engineers for maximised performance. It also includes access to NVIDIA DIGITS™ deep learning training application, third-party accelerated solutions, the the NVIDIA Deep Learning SDK (e.g. cuDNN, cuBLAS, NCCL), CUDA® Toolkit, and NVIDIA drivers.
Built on container technology powered by NVIDIA Docker, this unified deep learning software stack simplifies workflow, saving you days in re-compilation time when you need to scale your work and deploy your models in the data centre or cloud. The same workload running on DGX Station can be effortlessly migrated to a DGX-1 or the cloud, without modification.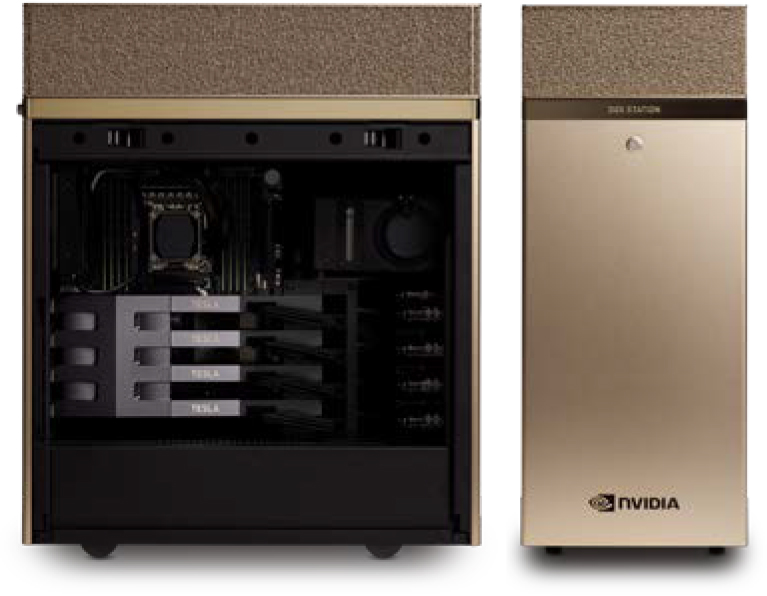 SYSTEM SPECIFICATIONS
GPUs
4X Tesla V100
TFLOPS (Mixed precision)
500
GPU Memory
128 GB total system
NVIDIA Tensor Cores
2,560
NVIDIA CUDA® Cores
20,480
CPU
Intel Xeon E5-2698 v4 2.2 GHz (20-Core)
System Memory
256 GB RDIMM DDR4
Storage
Data: 3X 1.92 TB SSD RAID 0
OS: 1X 1.92 TB SSD
Network
Dual 10GBASE-T (RJ45)
Display
3X DisplayPort, 4K resolutio
Additional Ports
2x eSATA, 2x USB 3.1, 4x USB 3.0
Acoustics
< 35 dB
System Weight
88 lbs / 40 kg
System Dimensions
518 D x 256 W x 639 H (mm)
Maximum Power Requirements
1,500 W
Operating Temperature Range
10–30 °C
Software
Ubuntu Desktop Linux OS DGX Recommended GPU Driver CUDA Toolkit
Supercomputing Performance, at Your Desk
DGX Station brings the incredible performance of an AI supercomputer in a workstation form factor that takes advantage of innovative engineering and a water-cooled system that runs whisper-quiet.
The NVIDIA DGX Station packs 500 teraFLOPS of performance, with the first and only workstation built on four NVIDIA Tesla® V100 accelerators, including innovations like next generation NVLink™ and new Tensor Core architecture. This groundbreaking solution offers:
> 72X the performance for deep learning training, compared with CPU-based servers
> 100X in speed-up on large data set analysis, compared with a 20 node Spark server cluster
> 5X increase in bandwidth compared to PCIe with NVIDIA NVLink technology
> maximised versatility with deep learning training and over 30,000 images/second inferencing
Investment Protection
With DGX Station, you get enterprise grade support with access to NVIDIA deep learning expertise, a library of expert training, software upgrades and updates, and priority resolution of your critical issues—all in one place.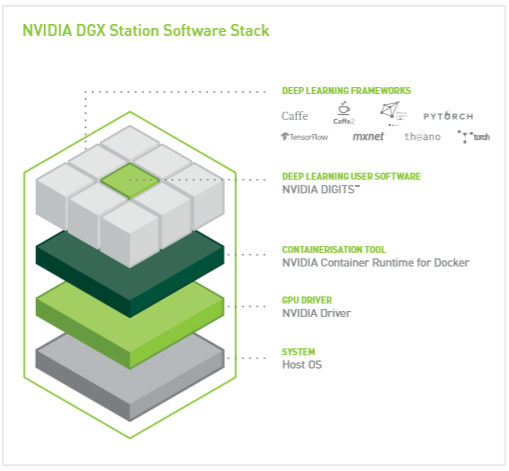 ---
OTHER GPU SOLUTIONS
BIOS IT's industry leading 1U ANNA server, is a masterclass of design and innovation, creating a streamlined architecture which eliminates complex cabling and GPU pre-heat for maximum airflow, cooling and performanceper-watt
NVIDIA DGX systems are available from BIOS IT
BIOS IT is a global IT consultancy and solution provider, focussed on delivering the latest high-performance, power efficient IT solutions. From liquid-cooled servers to bespoke GPU accelerated solutions tailored to meet your exact requirements, BIOS IT provides the right solution for you
---
Contact us to discuss our solutions
Our experts are waiting to give you competitive quote
Contact Us